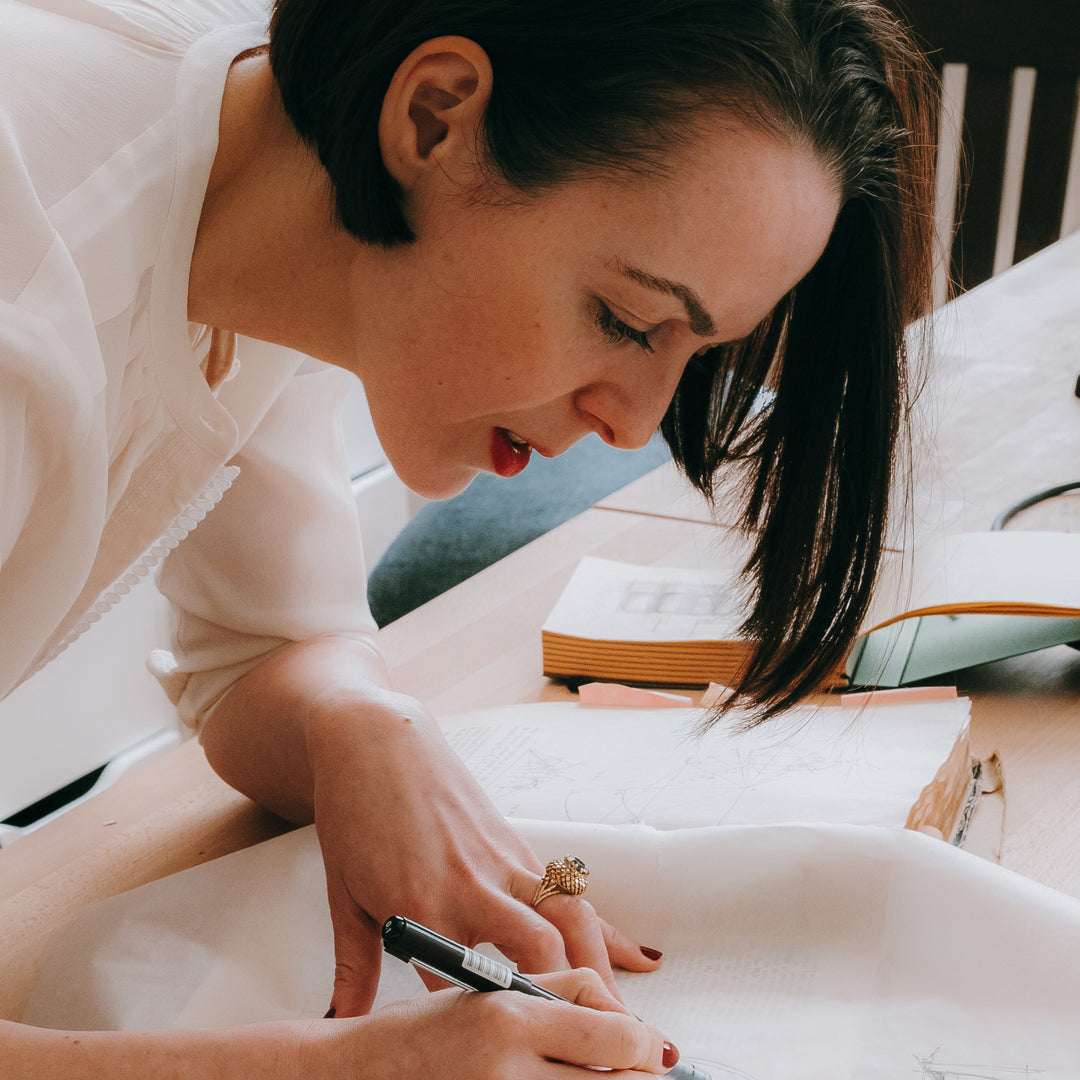 A Sag Harbor architect creates a unique range of jewelry that explores our connection to the natural world.
 Ramona Albert (ramonaalbert.com) is no stranger to beautiful, intricate design. As an architect, her background is in dreaming up custom spaces with complex systems that require a great amount of detail. Case in point: "I designed the first facade with integrated Hermès fabric, and made slumped glass patterns for a Louis Vuitton store," she shares.
So when Albert decided to develop a jewelry line, it wasn't much of a leap for the Sag Harbor resident. "I have always been interested in the tactile relationship between material and the body, and the jewelry was a natural way to explore that idea," she says. "Design requires the same amount of attention to detail at any scale."
Launched in late 2019, Albert's jewelry is equal parts hightech and grounded in nature, a juxtaposition that the designer was eager to delve into. "This collection is inspired by movement. It was born out of a desire to understand natural design forms as they relate to the human scale," she explains. Named OS, after the Latin word for "bone," the range features a ring, cuff bracelet and wrap bracelet all made of cast brass. "The pieces gently wrap around the arm and fingers while exhibiting added details that capture light in various ways through the curvatures and repeating elements," Albert says of her designs. "Repeating patterns are found everywhere in nature, and they create a sense of comfort and calmness." To create the delicate spinelike pieces—which took a year from concept to completion—Albert turned to technology, using a combination of 3D printing for the molds and a manual process for casting and finishing. "I start with a digital modeling process followed by the prototyping process that requires a careful study of the form and size," she says. "Ultimately each piece is cast in brass, gold-plated and electrocoated for a better finish." Albert notes that a full gold alternative is also available. "I am looking to be able to make jewelry that is highly personal, and ultimately customized for each client according to their requests," she adds. It's no wonder that Albert's stunning creations have already been recognized among her peers—in May she received the NYCxDESIGN award for Best in Jewelry. And she's just getting started. "In addition to our ongoing architecture and interiors work, we will soon launch a lifestyle line, and the jewelry is the beginning of that," Albert shares.
This summer, the architect won't have to look far to feel inspired. "Sag Harbor has a beautiful calmness. We live in a historic home with a Victorian garden, which is a constant source of inspiration," she says. "The village has so much history but also a lot of intellectual initiative; I am looking forward to the growth of the artistic community here, and in the Hamptons in general."